Odyssey7Q+ OLED Monitor & 4K Recorder with 2TB SSD recording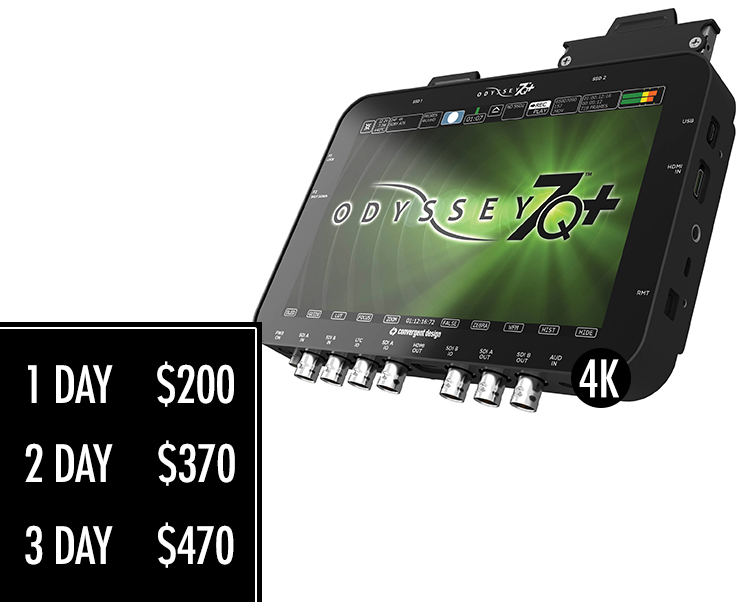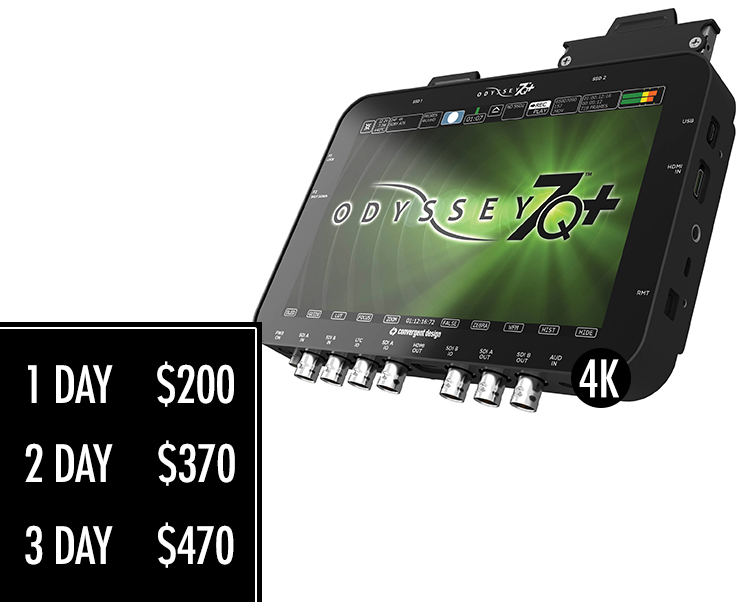 Odyssey7Q+ OLED Monitor & 4K Recorder with 2TB SSD recording
Convergent Design's Odyssey7Q+ is a monitor/recorder that provides all of the features and functionality of the Odyssey7Q but adds support for 4K recording over HDMI. It features a 7.7", 1280 x 800, OLED, touchscreen display with a 3400:1 contrast ratio, true blacks, and professional monitoring features such as waveform, histogram, vectorscope, anamorphic de-squeeze, and 3D LUT support. Out-of-the-box, the Odyssey7Q+ can record up to 4K (4096 x 2160) and Ultra HD (3840 x 2160) in the compressed Apple ProRes 422 HQ format or up to 2K/1080p using the uncompressed DPX file format. Additionally, it supports several RAW recording options for ARRI, Canon, Sony, and POV cameras, which are available for purchase or rental from Convergent Design's website.
The Odyssey7Q+ has two 3G-SDI inputs, two 3G-SDI outputs, and two bi-directional 3G-SDI connectors which can be assigned as either inputs or outputs via menu selection. It also has a 4K-capable HDMI input and an HDMI output that supports up to 1080p30 4:2:2. Most of the inputs/outputs are on the bottom of the monitor, with 1/4"-20 mounting threads on the sides. Dual SSD slots are provided for recording video to Convergent Design Premium 2.5" SSDs, which offer high speeds, reliability, and power-loss protection. Select Samsung SSDs are also supported for more cost-effective recording media, but without the power-loss functionality of the Convergent Design media. An AC adapter is included for powering the device, with optional battery plates available. Also included is a 36" Micro HDMI to HDMI cable and a HDMI to Mini HDMI adapter, useful for using the Odyssey7Q+ with DSLRs and mirrorless cameras with Micro HDMI outputs.
And this one has 2tb of SSD recording!
___
*PRICE IS FOR ONE DAY RENTAL. FOR MULTIPLE DAY RENTALS PLEASE EMAIL US AT 85NORTHPRODUCTIONS@GMAIL.COM.