DSLR PRO PRODUCTION PACK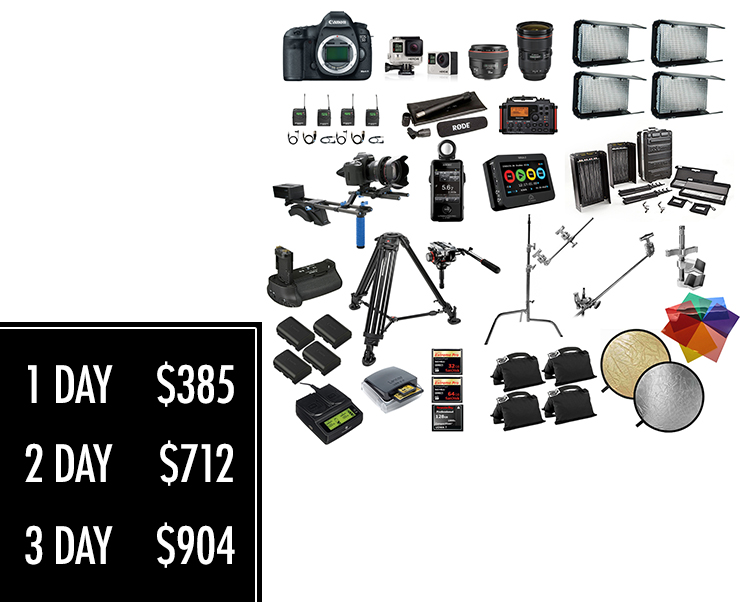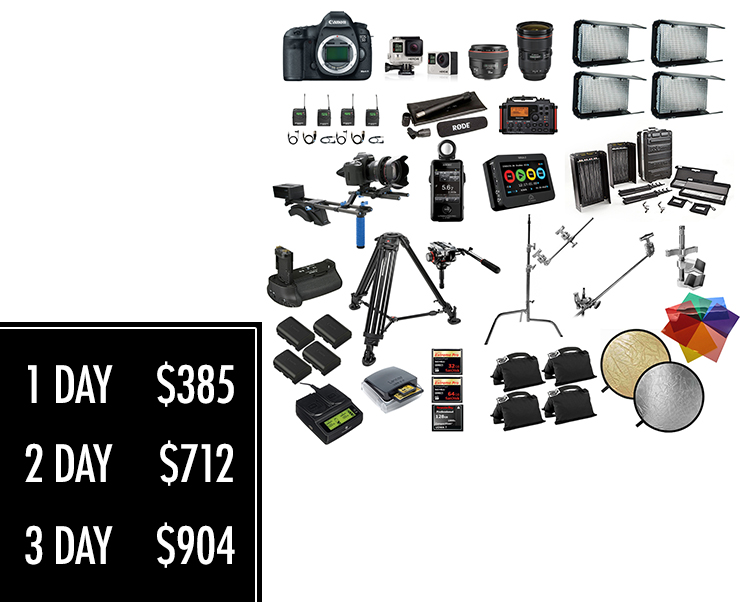 DSLR PRO PRODUCTION PACK
EVERYTHING YOU NEED IN ONE SIMPLE BUNDLE.
DSLR BASIC PACK + GRIP PACK + SOME EXTRAS THROWN IN!
DISCOUNT AVAILABLE IF RENTING WITH OUR STUDIO SPACE.
INCLUDED IN RENTAL:
DSLR BASIC PACK
Canon 5D Mark III
Canon Battery Grip
4x Canon batteries
Pearstone Dual Battery Charger
Manfrotto 546B Pro Video Tripod with Mid-level Spreader + 504HD Fluid Video Head
Monopod (not pictured)
2x Komputer Bay Professional 128gb CF Cards (1000x/UDMA 7)
2x SanDisk Extreme Pro CF Cards - 64GB (160 MB/s, UDMA 7) / 32GB - (90MB/s, UDMA 6)
1x Lexar Professional USB 3.0 Dual-Slot Reader (UDMA 7)
EXTRAS
GoPro Hero4 Black Edition
2 Lenses of your choice
2 Kino Flo Diva-Lite 401 Rental Kits (4 lights)
Tascam DR-600MKII 4 Channel Portable Recorder -OR- Tascam DR-100MKII Portable 2 Channel Linear PCM Recorder
2 Sennheiser EW 100 G3 Lav Sets (2 Receivers, Transmitters, and Mics)
Rhode NTG-3 Shotgun Microphone -OR- any other Mics we offer
RedRock Micro Shoulder Mount -OR- Rigwheels 5 Ton Bundle
+ PLUS
Sekonic Litemaster Pro L-478D Light Meter
Atomos Ninja 2 Video Recorder/Monitor 1TB
GRIP PACK
4x 15lb Impact Saddle Sandbags
2x C-Stands + Impact Grip Head
Impact 2.0" End Jaw Vise Grip
Impact Collapsible Circular Silver/Gold Reflector
Various Color Gels
___
*PRICE IS FOR ONE DAY RENTAL. FOR MULTIPLE DAY RENTALS PLEASE EMAIL US AT 85NORTHPRODUCTIONS@GMAIL.COM.